TabNote.co website is for selling with its premium domain and all other assets.
---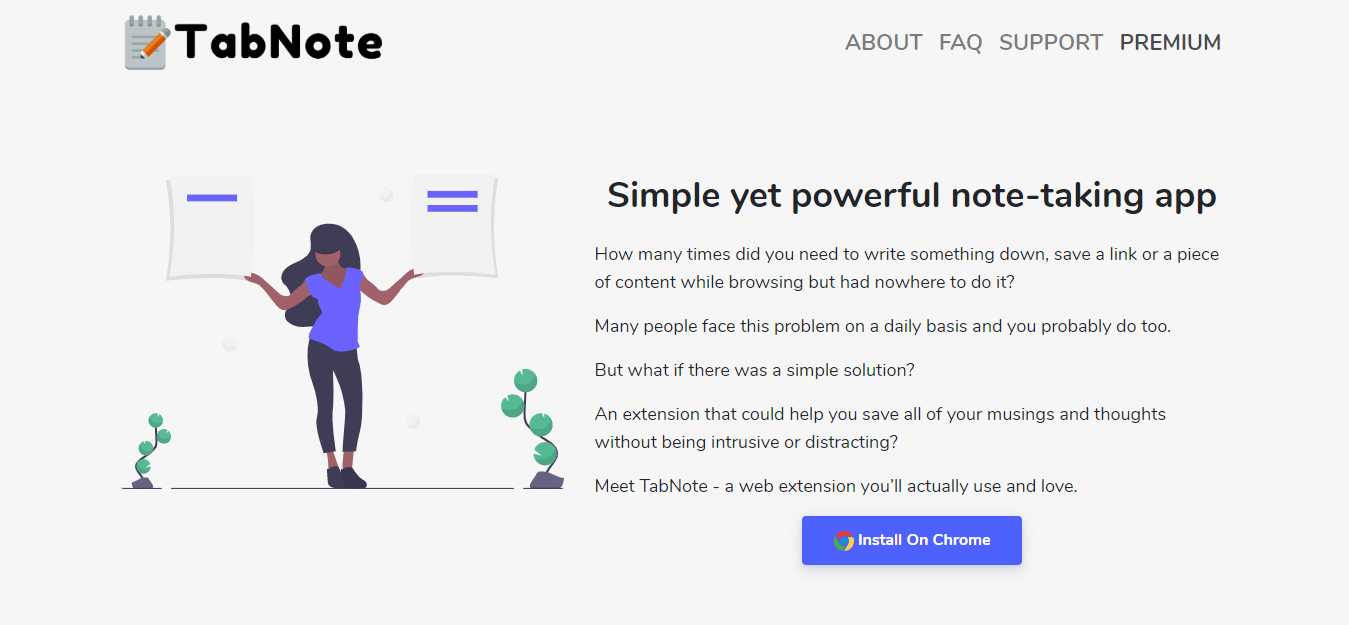 What is TabNote?
TabNote is a Chrome extension that can help you take notes quickly and without any fuss. While it tends to keep things simple, TabNote also allows you to personalize your writing space by letting you change the font family, font size, color, and background color.
You can also switch between the regular white writing space mode and the other two modes. One of them is the eye care mode which is perfect for everyone with screen glare problems and the second one is the dark mode which can help people browsing during the night.
This free tool is great at being a clipboard or a notepad - and you don't have to wait before using it. A simple click and you can type away.
---
PROJECT STATISTICS
It has a strong brand with a premium domain, the domain is almost 2 years old.
It featured twice on Product Hunt home page and it became #4 product of the day.
The website has around 1,000 page views per month.
The extension has around 300 installations on the chrome web store.
The domain contains around 500 backlinks with 65% dofollow.
CONTACT THE SELLER
Get in touch with us to discuss the tech stack, or just make an offer!
---
Why are you selling the business?
Because of now, we are more into email-related products. We don't have enough resources to manage productivity tools.
What includes the sale?
Premium domain name, Chrome extension, and its codebase, brand new website and its code base with all related graphics and contents, we help you to set up this website on your own server.
What is the technology stack?
PHP, Javascript, Laravel, Chrome API
What actions are required to keep the business working?
This is a fully functioning website with a chrome extension. This total product is working perfectly. Also, we facilitate all required support to set up this website on your own server.
How does the business generate revenues?
TabNote.co doesn't generate any revenue at this level. But the future owner can monetize this extension by providing premium plans for users and also placing advertisements over the website content.
How much will it cost to maintain this website?
Apart from the domain and hosting service cost, there aren't any costs involved. For us, it's costs even less than $5 per month.